We offer various molecular biological, microbiological and biotechnological testing and development services. This can be studies or the implementation of a project. We accompany you from the idea to the market launch of a new product or a new process.
Our accredited food laboratory at the fzmb also offers a wide range of services in the field of microbiological and chemical analyses.
The veterinary clinic at our institute in Bad Langensalza provides care for small and large animals in almost all medical fields.
Microarray development
Development of multiparameter tests
High precision dispensing (Life Sciences)
Development of immunoassays (LFA/ ELISA)
Coupling of proteins to tracer molecules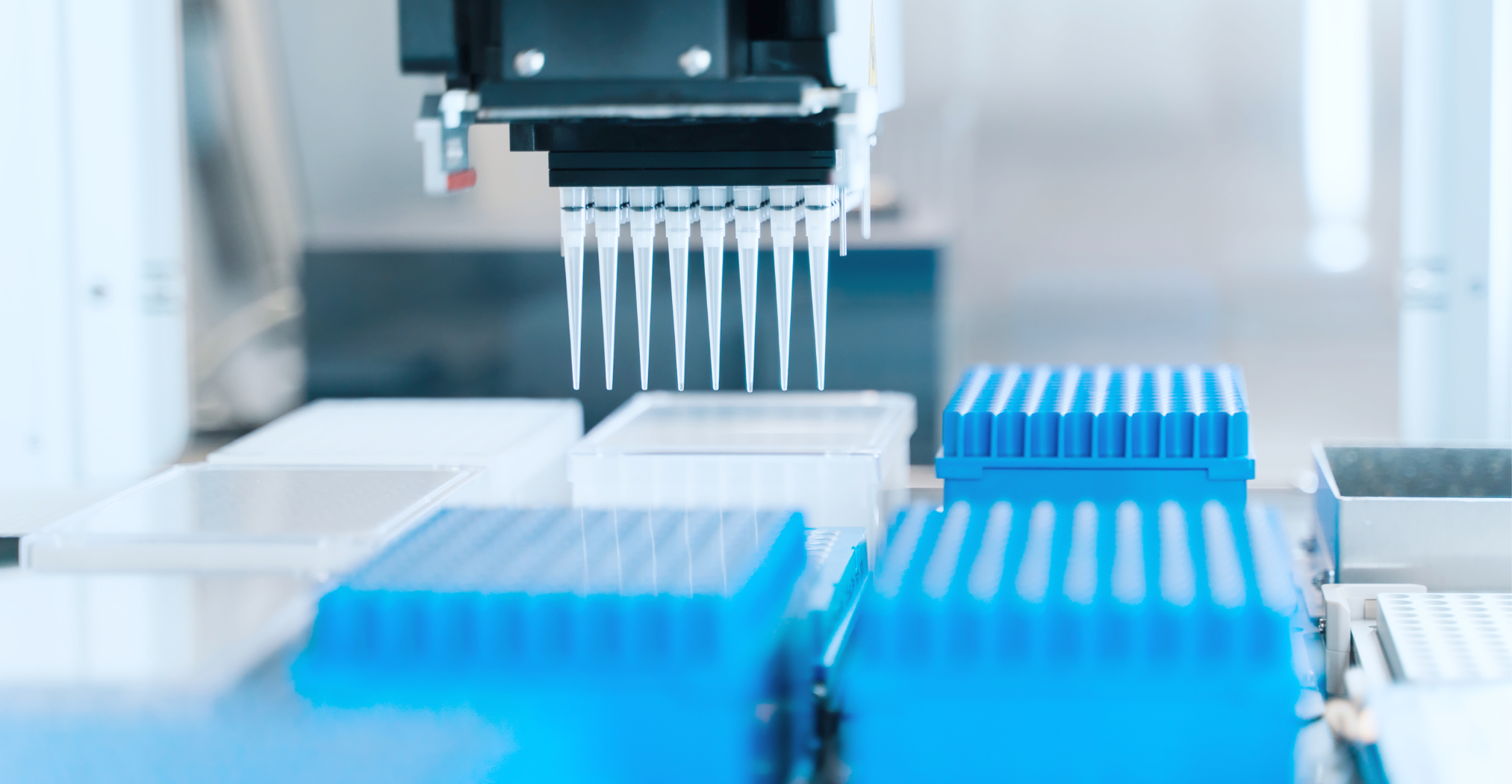 Development and production of microarrays
Microarrays consist of a large number of microscopic spots that can be precisely deposited on a solid surface by high-precision dispensers. For example, more than 700 spots can be applied in a single well of a 96-well microtiter plate.
Customized development
In the business unit INTER-ARRAY at the fzmb we accompany you through all development phases of microarrays from feasibility studies to pilot production. After successful development, we are available to you as a contract manufacturing partner with our ISO-certified production capacities.
Microarray quality control
The focus is on the high quality of the microarray products. For production, the dispensing systems operate in a climate-controlled environment with inline QC software, ensuring quality control of all arrays produced.
Information
For more information, visit our website at www.inter-array.com.
Contact
Katrin Frankenfeld
Head of Biotechnology Department
phone +49 (0)360 – 833 141
Development and production of multiparameter tests
Protein and antibody microarray technology offers enormous potential for a wide range of diagnostic applications. Miniaturized, parallelized immunoassays as well as DNA-based microarrays are ideal for generating maximum diagnostically relevant information with small sample and reagent volumes. A microarray thus saves a lot of time, valuable samples and expensive raw material.
Application in human and veterinary medicine
The use of microarrays in human and veterinary diagnostics is of interest for all applications where multiple analytes can be determined from a single sample.
Typical examples of multiparameter analysis are allergy and food intolerance tests, the diagnosis of autoimmune, metabolic and infectious diseases, and cancer diagnostics. The technology offers excellent prospects for new ways of individualized diagnostics and personalized medicine.
Multi-parameter analysis in different formats
In the business area INTER-ARRAY at the fzmb we carry out new developments of various multiparameter tests. Standard detection formats such as ELISA, lateral flow strips, and microfluidic assays can be used, as well as custom platforms.
Our team offers flexible support for feasibility, validation as well as production projects for various microarray based assays. In addition to completely new development, the transfer of existing tests to the microarray platform is also possible.
Information
For more information, visit our website at www.inter-array.com.
Contact
Katrin Frankenfeld
Head of Biotechnology Department
phone +49 (0)360 – 833 141
High precision dispensing
In order to apply very small volumes of capture molecules (from picoliters to microliters) to any surface with high precision, a lot of experience is required in addition to very good dispensing systems. Our business unit INTER-ARRAY at fzmb is equipped with a variety of state-of-the-art microdispensers and has many years of professional know-how.
From design to data analysis: Exclusive printing offers
With our established technologies for high-precision dispensing and our years of experience from design to data analysis, we create an exclusive printing offering in the life science sector. We offer this all-round service at an attractive price/performance ratio. The focus is on high quality and short production times.
Spotting of various substances
Substances that can be spotted include antibodies, other proteins and peptides, oligonucleotides, carbohydrates, cells and cell lysates, particles and chemical compounds, and special customer-supplied molecules. Substrates to be coated include glass and polymer slides, microtiter plates and microcavities, membranes and microfluidic chips, wafers, biosensors, and customized surfaces.
Information
For more information, visit our website at www.inter-array.com.
Contact
Katrin Frankenfeld
Head of Biotechnology Department
phone +49 (0)360 – 833 141
Immunoassay development
The lateral flow assay (LFA) is an immunological strip test. It combines the principle of thin-layer chromatography with antibody-based detection (colorimetric/fluorescence). An LFA is the basis for cost-effective, highly sensitive and reliable detection of a wide range of analytes.
As a point-of-care test (POCT), lateral flow assays find multiple applications e.g. in immunodiagnostics or in the analysis of environmental and food samples.
The ELISA (Enzyme-linked Immunosorbent Assay) is used for the qualitative and/or quantitative detection of an analyte (antigen) in a sample. In addition, many samples can be analyzed in parallel and automated in a laboratory environment.
We develop LFAs and ELISAs from feasibility to small-scale production or preparation for large-scale production. These specific immunoassays can be used to diagnostically detect a wide variety of analytes in complex sample matrices. Highly specific and affine monoclonal and polyclonal antibodies are required for reliable selective binding of the analyte in a liquid phase or tissue sample. Their production and application-related characterization is one of our core competencies.
Reliable detection of biological structures with high sensitivity
Imunoassays can detect the analytes of interest down to the nanogram range, in some cases even the picogram range. Thereby, qualitative and quantitative detections from a wide variety of biological samples with complex compositions are possible without pretreatment.
At fzmb, rapid highly specific test systems with colorimetric, fluorescence or chemiluminescence-based readout for any parameter are developed.
Performance overview
Development of ELISAs for the qualitative detection of micro- and macromolecules (formats: indirect ELISA, sandwich ELISA).
Development of ELISAs for qualitative detection of analytes (format: sandwich ELISA).
Development of lateral flow assays (LFA) for qualitative detection of biomarkers.
Optimization of assay components and steps for the benefit of sensitivity and assay speed
Validation of the developed ELISA/ LFA
Contact
Andrea Helming
phone +49 (0)361 – 663 97 75
Production of monoclonal antibodies
Production of recombinant antibodies (horse)
Production of polyclonal antibodies
Application-related matched pair antibodies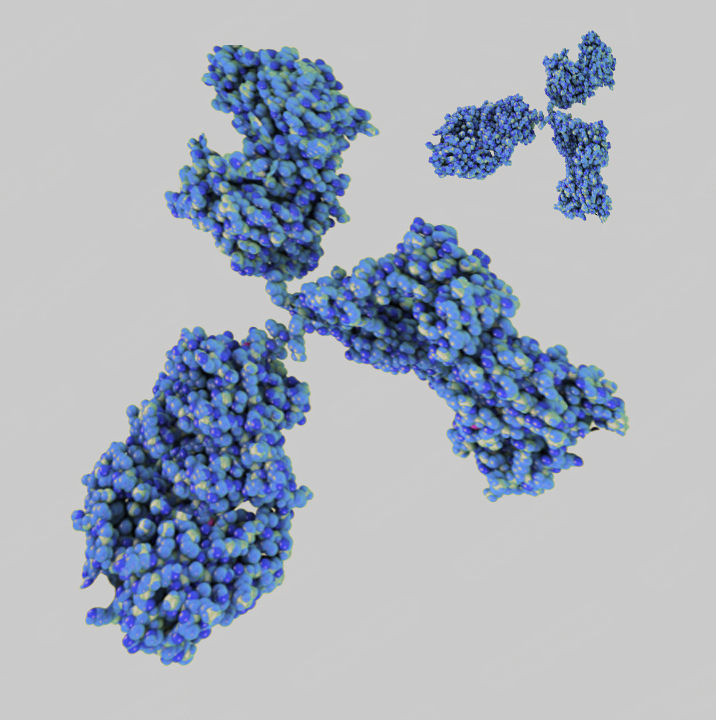 Virus-like particles (VLP) for test development
Inactivation of microorganisms
BioCellulose (Made in Germany)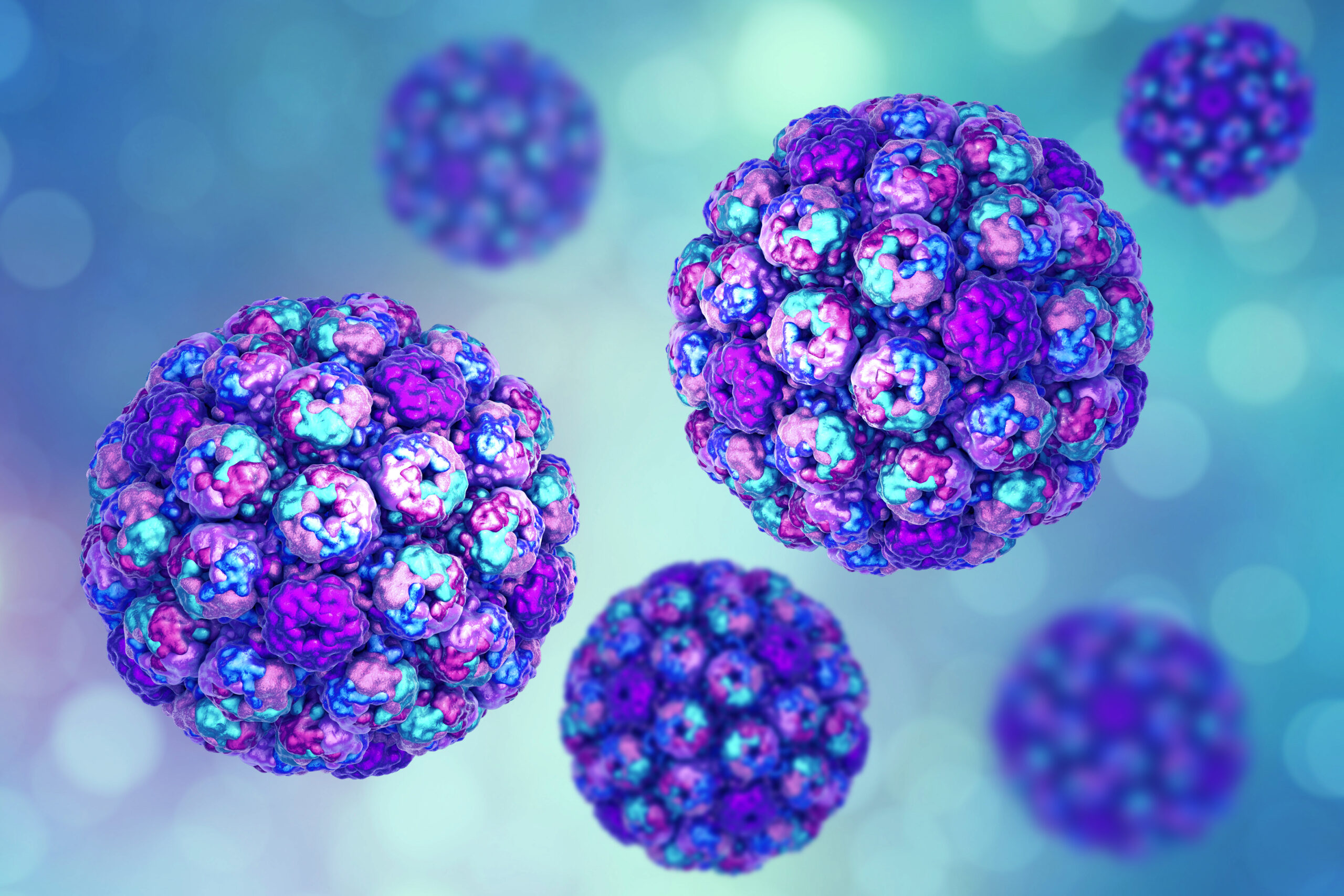 Virus-like particles (VLP) of human polyomavirus JCV as purified antigen for test development.
The human polyomavirus JCV-derived virus-like particles (VLPs) consist of the major structural protein VP1. Five VP1 proteins each assemble into a VP1 pentamer (capsomer). 72 of these capsomers form an approximately 45 nm virus-like particle (VLP). VLP is produced recombinantly in insect cells in cell culture.
VLP-based assays are essential for determining prior exposure to JCV in epidemiologic studies. Similarly, they find use for serologic diagnosis in patients at risk for polyomavirus-associated disease or showing early signs of complications due to polyomavirus reactivation.
If you need recombinantly expressed JCV-VP1-VLP for the development of your own assays or if you are interested in a joint development, we are looking forward to your contact.
Contact
Dr. Ina-Gabriele Richter
phone +49(0)360 – 833 177
Inactivated bacteria
The use of inactivated bacteria as control material or for immunization for antibody production can minimize the risk of infection and contamination. For this purpose, bacteria are conventionally inactivated by thermal or chemical treatment. This material is unsuitable for many applications because the morphology and antigenicity of the bacteria are altered.
UV inactivation of microorganisms
UV-inactivated microorganisms, on the other hand, are particularly well suited as microbiological con-trol material for scientific or medical purposes. The high-energy UV light damages the DNA and thus causes the inactivation of the bacteria. The macro-molecular outer surface is well preserved. Thus, these bacteria are particularly well suited for generating antibodies against surface antigens. If inactivated bacteria are used as reference material to vital bacteria, comparable results are obtained.
Customized inactivation of microorganisms
We offer microorganisms as whole cell preparations (inactivated bacteria such as Legionella, Streptococcus, etc.) as standardized, independent quality controls for the evaluation of molecular tests. In addition, we can perform customized inactivation of bacteria (UV inactivation, heat inactivation, formalin inactivation) according to your specifications. You determine the desired concentrations, buffers and additives.
Please feel free to contact us so that we can discuss your individual request.
Contact
Dr. Ina-Garbriele Richter
phone +49 (0)360 – 833 177
BioCellulose (Made in Germany)
Ultra thin & ultra light
Natural skin feeling
Our BioCellulose is a pure natural material. It is significantly purer than plant cellulose and consists of a stable mesh of ultra-thin fibers that adapt perfectly to any skin contour. The masks are particularly light and transparent and therefore interesting even for those who have not used fleece masks so far.
BioCellulose as active ingredient carrier
In its meshwork of millions of fine fibers, our BioCellulose stores cosmetic active ingredient solutions for the treatment and care of the skin. Due to the optimal adaptation to the skin surface, the active ingredient molecules are specifically delivered to the skin and very good cosmetic results are achieved.
Application
Easy application in the beauty salon or at home
The BioCellulose masks are incredibly light and thin. As a result, they lie almost invisibly on the face. The application of the masks is very simple. The carrier material used allows easy application of the BioCellulose to the skin. The two mask parts allow adjustment to any face size. Due to the extremely good adhesion of the BioCellulose to the surface of the face, the client has a high degree of freedom of movement during the treatment.
Ideal combination with apparative treatment methods
BioCellulose masks provide a unique basis for combination with apparative treatment methods. The material of the masks allows, in addition to an optimal release of active ingredients, a perfect transfer of the physical effects to positively influence regeneration processes of the skin and stimulate metabolic processes.
Production
Development, production and packaging
We act as a contract manufacturer for the production of cosmetic masks according to customer requirements. Our BioCellulose is biotechnologically extracted from glucose in Germany and processed into masks. We impregnate the masks with our customers' active ingredients or provide a product formulation. We are happy to advise on the choice of active ingredient.
Research and development
We implement the ideas that our customers bring to us. The production of samples is part of our service offer. With our own perfectly equipped laboratories, our competent chemists, biologists and laboratory technicians are able to offer comprehensive research and development services.
Quality
We have been producing BioCellulose at the highest level for 20 years. Our experienced team works to produce high quality products to exacting standards. The GMP-compliant production is certified according to DIN ISO 9001. The product is dermatologically tested and is manufactured entirely in Germany. We guarantee fast order processing.
Contact
Dr. Ina-Gabriele Richter
phone +49(0)360 – 833 177
Analysis of food, drinking water and cosmetics
Food laboratory – general information
Microbiological and chemical analysis of food
Microbiological testing of cosmetics
Examination of air, objects, environmental samples
Drinking water testing
other signatures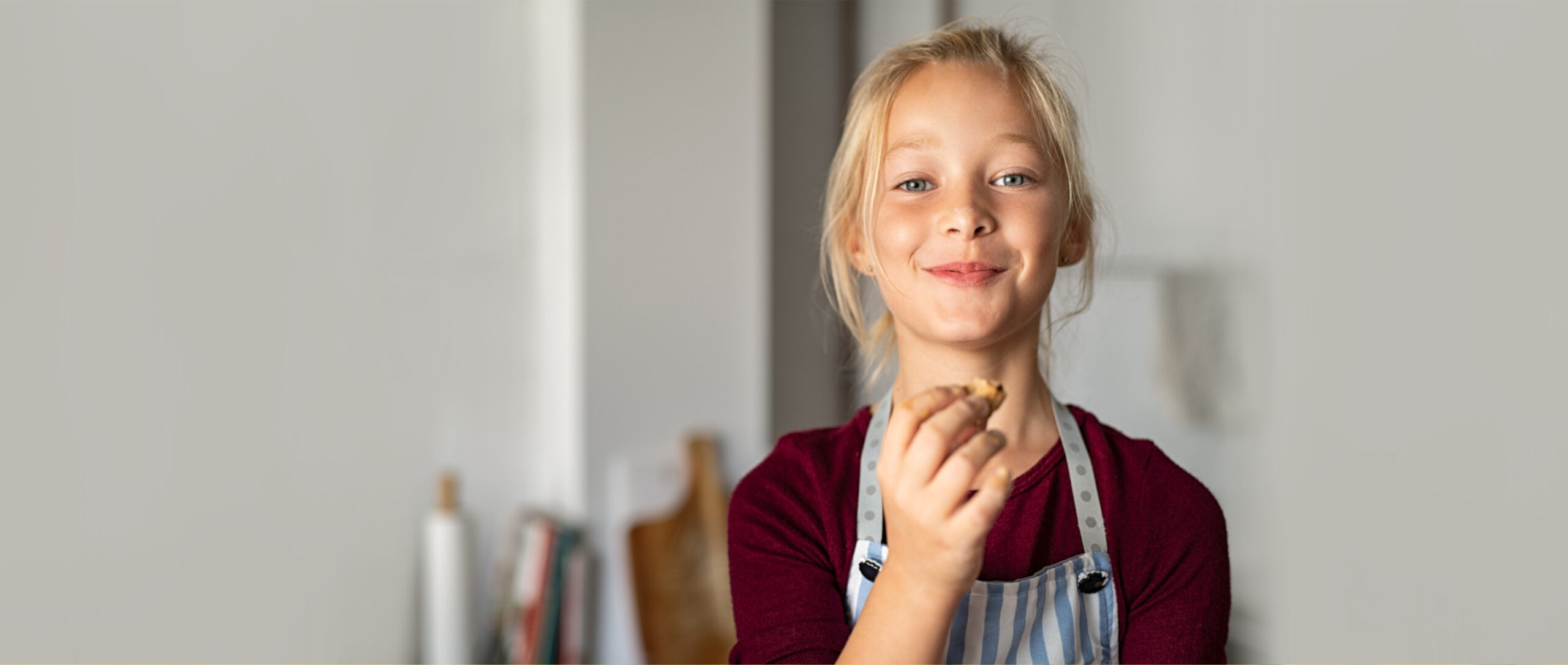 Food laboratory – general information
The safety of our food has become an increasing focus for consumers in recent years. Food scandals are increasingly dominating the headlines in the public media.
Do you want to offer your customers safe, high-quality food or even avoid recalls?
Our competent and experienced team supports you from consulting to analysis.
Please note: When testing as an official self-control test (submission to authorities), sampling by the laboratory is mandatory. Our accredited internal and external samplers are at your disposal for this purpose.
We not only carry out microbiological and chemical tests within the framework of our own inspections, but also provide support, e.g. in questions of food law, the preparation and testing of labels or practical problems in the production process.
Our field staff will be happy to advise you on site by individual arrangement and will also collect samples.
Contact
Steffi Leuschke
State-certified food chemist
phone +49 (0)360 – 833 173
Microbiological and chemical analysis of food
We perform microbiological, chemical and chemical-physical examination of food, product specific among others on:
Pathogen
Spoilage agent
Compliance with legal requirements (e.g. VO 2073/2005, Zusatzstoff-Zulassungsverordnung, Käseverordnung)
Compliance with microbiological guideline and warning values of the German Society for Hygiene and Microbiology (DGHM)
aw value and pH value
Determination of food ingredients
Compliance with specifications of the guiding principles of the German Food Book
Nutritional value determination "BIG 7
Determination of ochratoxin A in cereals and cereal products by HPLC.
Detection of antibodies against Salmonella serovars of groups B, C, D and E in meat juice and blood products by ELISA, entry of results in the Qualiproof database.
Checking of markings for legal conformity
Contact
Steffi Leuschke
State-certified food chemist
phone +49 (0)360 – 833 173
Microbiological testing of cosmetics
Microbiological product safety is one of the most important factors in the safety evaluation of cosmetic products. Our analytical laboratory tests the microbiological quality of cosmetic products as well as the raw materials used. Within the scope of operational hygiene monitoring, we offer manufacturers of cosmetics various tests of process water or production water, of room air and surfaces as well as of packaging materials.
The spectrum of our laboratory includes the following analytical methods:
(Evaluation of the preservation of cosmetic formu-.
ren)
Testing for microbial contamination
Detection of specific microorganisms
Checking the cleaning and disinfection of surfaces and consumer goods
Checking the indoor air quality
Contact
Steffi Leuschke
State-certified food chemist
phone +49 (0)360 – 833 173
Examination of air, objects, environmental samples
Checking the cleaning and disinfection of surfaces and consumer goods
Checking the indoor air quality
Verification of personnel hygiene
Contact
Steffi Leuschke
State-certified food chemist
phone +49 (0)360 – 833 173
Drinking water testing
The testing in our laboratories of drinking water is carried out in accordance with the Ordinance on the Quality of Water for Human Consumption (Drinking Water Ordinance – TrinkwV 2001):
Checking the microbiological quality of drinking water (colony count at 22°C and 36°C, coliforms, Escherichia coli, enterococci)
Determination of Pseudomonas aeruginosa
Determination of Clostridium perfringens
Testing of drinking water installations for Legionella spp.
Contact
Steffi Leuschke
State-certified food chemist
phone +49 (0)360 – 833 173
Data Science & Optical Analytics
Chemometric data analysis for spectroscopy and spectral imaging
Determination of optical material properties and simulation of optical setups
Feasibility studies and validations of optoelectronic sensors
Rapid Prototyping / 3D Printing